Cellular shades have become a very popular window treatment option over the past few years. Also known as "honeycomb shades," cellular shades are one of the most modern window treatments available, and unlike blinds with separated pieces or roller shades with one single piece of fabric, cellular shades have pieces of fabric connecting them and stacking them throughout like an accordion. There are many benefits of cellular shades related to their unique shape and look, and they would be a great addition in any home.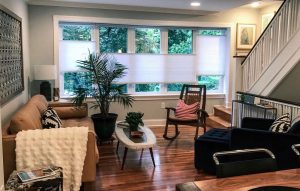 Benefits of cellular shades
Cellular shades are one of the most energy efficient shades on the market. Because you can move them to any part of the window, you can move the shades throughout the day to block the strongest sun rays. If you want to let the maximum amount of light in, cellular shades can become very compact. The ability to block out the sun where it's strongest while also letting in light can help reduce your energy bills, and the "honeycomb" shape also serves a purpose with energy efficiency. The shape traps air around your windows so it traps the hot air in the summer and the cold air in the winter, so the shades offer energy efficiency for the entire year.
Cellular shades are unique in their ability to help with noise reduction. If you have noisy neighbors or live in a busy street with a lot of traffic, they are the perfect window treatment for you. The honeycomb shape traps air, and it also absorbs sound waves to make your home quieter and more peaceful.
Along with their many benefits, cellular shades have a classy, modern feel that looks great in any home. They are very versatile with their ability to move to any spot of the window you want, and the variety of colors can accent any room décor. The simple design blends in seamlessly in all rooms. At Blinds Bros., we also offer different light filtering options depending on your needs.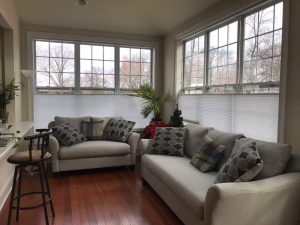 Installing cellular shades
If you're ready to install these eco-friendly, noise-reducing, versatile window cellular shades, contact Blinds Bros. today to see how the benefits of cellular shades can work with your home.