When you're updating your interiors, you probably hang new photos or artwork, and you might give the rooms a fresh coat of paint. These updates can really makes the space feel fresh. However, we think there's an even more effective way for NJ homeowners to make an old room seem new: custom window treatments!
Why Opt for Custom Window Treatments NJ?
Window treatments can tie a room together and can make an impact on visitors without breaking the bank. Fabric shades can add a pop of color to a dark bedroom, or sharp lines of hardwood blinds can make your home office look complete and professional.
Window measurements can vary slightly from house to house, so to ensure a precise fit, the experts at Blinds Bros. offer a free in-home window treatment consultation and estimate. There are many different kinds of custom window treatments to choose from, and Blinds Bros. is here to help recommend the perfect type of window treatment and color for your home.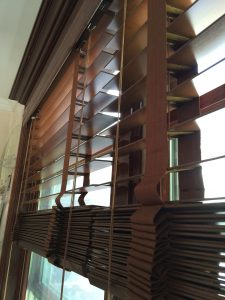 Blinds
Blinds are a common window treatment to use in homes, but there are several different options to choose from to get the look that you're after. Hardwood blinds can add a classic, rich look to a room, so they're perfect for your living room or bedroom. Blinds Bros. offers a variety of colors and finishes for the blinds so you can get the custom look you want.
Fauxwood blinds are another great option if you're after the hardwood look but you're on a budget. They're very durable and also resistant to moisture, but they can be heavier than hardwood blinds. All of our blinds are engineered and manufactured for the maximum life span you expect to receive from a well-made window treatment.

Plantation shutters
Plantation shutters are similar to blinds with a bit more of an old-fashioned, elegant look. They're custom made to fit any window, and they can actually increase the value of your home. Plantation shutters are often used in home offices to give the room a clean, professional feel. You can add them to standard casement, bow windows, and provincial, French, or sliding glass doors, so no matter the size or shape of your windows, Blinds Bros. can customize plantation shutters for any room.

Shades
Whether you want a beachy feel or a light, modern look, there are many options of shades to choose from. Woven wooden shades can make you feel like you're at the beach, and they're great for durability and flexibility. Roller shades can be customized with SOLAR shades, which have darkening and light filtering options to block UV rays and help save you money on energy bills. SOLAR shades look like roller shades, but they are made with a different kind of material that helps filter light and absorb UV rays. They are also great for protecting your furniture and carpets from fading in the sun. SOLAR shades also reduce glare so they work well in rooms with reflective surfaces like TV and computer screens. You can work on your computer in the strong morning or afternoon sun without worrying about being blinded. There are several color options to choose from, so they'll fit in whichever room you choose.
Cellular shades can add a modern feel to a room with the ability to move the stack of shades to any part of the window. They're perfect for diffusing sunlight and making a room light and airy. If you want all your rooms to have the same feel with some variations, Roman shades are an excellent choice since there's an assortment of options. You can choose flat shades for a seamless style, looped shades to add depth and texture in a room, or classic shades for an elegant, pleated design. There are also many colors to choose from, so you can customize Roman shades for any room you like.
Contact Blinds Bros for Custom Window Treatments NJ Homeowners Love!
If you know which kind of window treatment you'd like or if you want some recommendations, Blinds Bros. is here to help. We provide excellent service to the Main Line, Philadelphia, and South Jersey. Headquartered in Philadelphia, we are a short drive away to South Jersey, so we can be at your doorstep for a free home consultation in no time.
Blinds Bros. always puts customers first, and we will work with you to schedule a day and time that fits your busy day, even for appointments after hours. We want to make sure the time we meet with you is quality time, and we would like to take the stress out of decorating and make this experience enjoyable, all while providing high-quality products and services. One of our customers in South Jersey said in a review, "Want to thank Blinds Brothers for coming out to make a free estimate the day after I called them, and then installing a little over a week later. The final product is awesome."
Another customer said, "This business deserves more than 5 stars. I recommend Blinds Brothers to everyone!!! We recently purchased our first home and after a failed DIY attempt on curtains we went to Yelp for help. We found Blinds Brothers and emailed them and we received a response back VERY quickly! I was very impressed then, but just wait. I spoke with Yahuda and he set up an appointment to do a free estimate in two days… We have never been more pleased and satisfied with quality product & customer service from a business. These guys did an EXCELLENT JOB and are genuinely awesome guys. Even my dog couldn't get enough belly rubs and pets from the brothers!"
If you've moved into a new home or if it's time to give your home an updated look, contact the Blinds Bros. for a free estimate, and let us show you how installing new window treatments can dramatically change the look of your home for the better, without breaking the bank. Call us at 610.285.1022 to set up your consultation today.