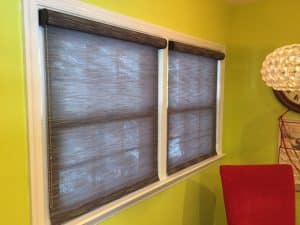 With temperatures soaring, most everyone in the Philadelphia area is welcoming tips and tricks to stay as cool as possible. In case you don't already know, strategically choosing your window treatments is a vital step to maintain a comfortable home when the weather is hot. This list of blinds to keep room cool from Blinds Brothers will help you survive the summer and prevent spikes in your utility bills.
Blinds to Keep Room Cool: Roller Shades, Venetian Blinds & More
Different areas of the home call for different types of window treatments. Luckily, it's easy to find blinds to keep a room cool. Plus, they can provide the right level of privacy & light, whether you're lounging in the living room or whipping up a meal in the kitchen. Here are 3 heat-blocking window treatment options which add style and function to rooms throughout the home:
Roller Shades – Installing roller shades will lend modern charm to your home's interior. Simultaneously, they are great for blocking UV rays and reducing solar heat gain. These shades come in an extensive selection of textures, colors and patterns, plus several light control options. Thus, it's no surprise they are commonly found all over the home. Roller shades are perfect in kitchens, bedrooms, bathrooms and family rooms.
Venetian Blinds – Available in both aluminum and wood, with many different colors/finishes to choose from, classic Venetian blinds are excellent insulators. These blinds to keep the room cool can be used just about anywhere. They give you the option to let natural light in or attain full privacy by shutting the slats.
Cellular Shades – Celebrated for their heat-blocking properties and contemporary look, cellular shades are a popular choice for bedrooms, living areas and beyond. They come in room darkening and light filtering varieties. You can find the perfect fit for your space while keeping it nice and cool.
Explore a Broad Range of Heat-Shielding Window Treatments with Blinds Bros.
Want to control the temperature of your home during summer and the rest of the year? Having effective window coverings truly makes all the difference. If you're eager to enhance your home and lower your energy bills with heat-blocking blinds, count on Blinds Brothers to recommend high-quality selections that work for your space and preferences.
Don't let another summer pass without superior blinds – give us a call at 215-789-4600 to schedule a free in-home consultation with one of our trusted window treatment pros!