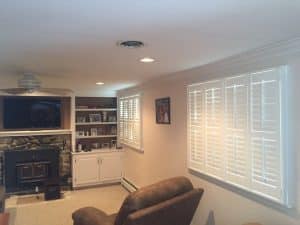 Many homeowners are attracted to the clean, traditional look of plantation shutters. However, not everyone is aware that the benefits of custom interior shutters go far beyond their timeless appearance. Let's explore the numerous advantages of selecting shutters for your indoor window coverings.
3 Noteworthy Benefits of Custom Interior Shutters
Accentuate other elements of your home – We have a wide range of shutter colors and designs available from Blinds Brothers. These window coverings are very easy to personalize. Perhaps you'll opt for a crisp & modern white to brighten things up, or an elegant cream to highlight your architecture. Or, a shade of brown to match your wood floors or furnishings. The choice is all yours!
Manage noise & temperature – Of all the different types of window treatments, shutters sit the closest to your windows when shut. This snug fit provides an insulating effect that reduces noise transfer, plus blocks out heat in the summer and drafts in the chilly months. Oh, and did we mention? Shutters can be fitted for both windows and doors!
Control light & level up your privacy – Shutters feature slats which can be adjusted to suit your preference for lighting and privacy. Swing the shutter doors open or position the slats to let in natural light when you want it. When you desire full privacy, simply close the doors and angle the slats so the window is completely covered.
Whether you use shutters to cover windows in a single room or throughout your home, your family is sure to enjoy their stylish design and practical features!
Why Depend On Blinds Brothers for Custom Interior Shutters, Shades or Blinds?
Since establishing our business in 2011, Blinds Brothers has sought to provide our customers with the most outstanding window treatment purchasing experience possible. We aim to maximize convenience and match you with the very best product for your space. That's why we bring our extensive selection of window treatments right to your home.
Our process is simple and efficient. We will show you samples, ask what features you're looking for and familiarize ourselves with the aesthetics of your home or business. Then, we will offer our expertise to help you decide on the best option, without ever being pushy. If you choose to purchase, our experts will take precise measurements to ensure a perfect fit. Finally, we will come back to professionally install your custom window coverings once they are ready.
Eager to discover the most ideal window treatment variety to complement your décor and fulfill every item on your wish list? Visit our website or call us at 215-789-4600 to request a free in-home consultation with the Blinds Bros. pros!