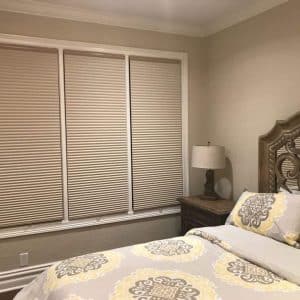 Among the various factors you may want to consider when selecting window treatments is the amount of insulation they offer. Heating bills can run high in the colder months. Beyond providing light control and aesthetic appeal, do blinds help keep cold out, too? Yes indeed, they do! For anyone seeking to lower their heating bills in the winter, blinds are an easy and effective upgrade.
Do Blinds Help Keep Cold Out? 3 Insulating Window Treatment Styles
Let's explore a few types of window treatments which are praised for their insulating, energy-saving capabilities:
Cellular Shades – When it comes to window treatments that prevent air transfer between your home & the outdoors, cellular shades are a standout choice. Also known as honeycomb shades, these blinds feature a revolutionary hexagonal cell shape which is exceptional at trapping both air and noise.
Wood Blinds – When the slats are shut, wood blinds do a great job of keeping your heat from dissipating outside. Want to let the sunshine in for natural warmth? Simply open the slats to your desired angle!
Shutters – While shutters aren't technically blinds, we had to include them on our list of the best insulating window treatments. They rest very close to the window when closed. That's why shutters are excellent at blocking chilly drafts and maintaining coziness throughout the home.
This is by no means a full list of window coverings which can help slash your energy bills – it's merely an introduction to the awesome insulating powers of a few different styles.
Create Your Ideal Window Treatments with Blinds Bros.
Hopefully, this article has given you a clear answer to the commonly asked question, "do blinds help keep cold out in winter?" Looking for the best insulating window treatments for your budget and interior design? The Blinds Brothers team is here to assist! Our pros will help you select a style which is well suited to your needs & preferences, then offer customization options so you can make our high-quality window treatments your own. To request a free in-home consultation with a Blinds Bros. expert, call us today at 215-789-4600! We look forward to working with you.