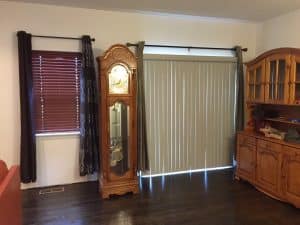 Whether you're furnishing a new home or refurbishing your current pad, custom window treatments can be used to elevate the style and function of your space. You might be tempted to DIY your window covering installation – after all, how hard can it be? As it turns out, it can be quite tricky to install your own blinds, especially if you choose unconventional window treatments like shutters. Read on for a summary of why this job is best left to the pros.
Why Not Install Your Own Blinds? Why Hire a Professional for Window Treatment Installation?
While it may seem easy enough to purchase and install your own blinds, there's more to this task than meets the eye. Plus, taking the DIY route means you might not be satisfied with the finished product. By calling on a window treatment specialist for assistance, you'll get all of these benefits:
Expert Knowledge – Pros come equipped with specialized knowledge that allows them to properly install window treatments for any type of window. This includes bay windows and other special shape windows.
Precision – Hiring an expert ensures that you will get a clean appearance and full functionality from your window treatments. A qualified installer will bring all the tools needed to take precise measurements and seamlessly install your window treatments.
Peace of Mind – Unless you're a pro yourself, the process of buying window treatments can be quite nerve-wracking. How do you know where to measure, and what if the shades you buy don't fit? Avoid the stress that comes along with trying to install your own blinds. Let a window treatment specialist take care of the logistics.
Count On Blinds Brothers for Highly Professional Window Treatment Installation
When you invest in new window treatments, you want them to look amazing. Working with Blinds Brothers guarantees that you will be highly satisfied with how your new blinds, shades or shutters look and function – now and for years to come! If you're searching for the perfect window treatments for your project, reach out to our team online or by calling 215-789-4600. We look forward to showing you why we're known for providing exceptional customer service and unrivaled installation work!