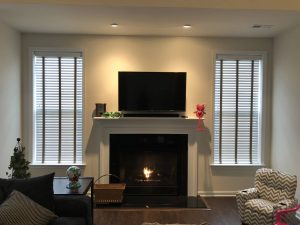 Alongside aesthetics, light control is a key factor to consider when shopping for window treatments. Sheer shades can work well in some areas of the home. However, light darkening blinds are likely to be a more fitting choice for certain spaces. Today, we'll look at a few reasons why you might wish to have more control over light in a room. We'll also discuss how light filtering window treatments can come in handy.
How Can Light Darkening Blinds Be Beneficial?
Banish Glare – Whether you're hard at work in your home office or decompressing in your media room, glare from the sun can be quite an interference. Light darkening blinds allow you to filter out some of that unwanted light and optimize your viewing conditions.
Create Privacy When You Want It – In addition to reducing glare, light filtering shades also serve the important purpose of blocking gazes from outside your windows. They're the perfect opacity for any spot in the home where you desire the option of privacy. At the same time, they won't completely darken the room.
Strike Your Desired Mood – Inspiring positivity and filling a space with warmth, natural lighting is a major mood booster. Light diffusing shades can be easily adjusted to flood any room with sunshine. Or, they can let in just enough light to create a bit of ambiance.
These are just a few reasons why you might want to select window treatments designed to give you total control over your lighting. For maximum room darkening power, light filtering blinds can be paired with curtains or valences. Alternatively, blackout shades are another great option offering complete light control. This opacity level will block out all light when the shades are shut, so it works great in rooms like the master bedroom or nursery.
Trust Blinds Bros. for Personalized Window Treatment Shopping Assistance
Are you eager to explore light filtering window coverings with an experienced, customer-focused professional? Philly's Blinds Bros. are here to show you a range of amazing options in a free in-home consultation! After discussing your needs and design preferences, our team will help you decide on the right opacity level and window treatment style for you. To learn all about our streamlined process and schedule an appointment at your convenience, give us a call today at 215-789-4600.