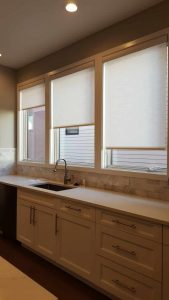 As we welcome autumn weather to the Philadelphia area, it's only natural to crave change in your interiors. Refreshing your window coverings is one surefire way to breathe new beauty, style and function into your living space. Whether you are putting up window treatments for the first time, or replacing outdated ones, it's wise to opt for professional blinds installation. This will ensure that the job gets done right. To give you an idea of what to expect, Blinds Brothers would like to walk you through our process – from the initial window blinds consultation to installation day.
Professional Blinds Installation from Blinds Bros.: What's Involved?
We come to you for a free in-home consultation – At Blinds Brothers, we strongly believe that shopping for window treatments is most successful when it's done in your own space. So, we arrange a time that works for your schedule to visit your home or business. We discuss your unique needs and show you samples we think you'll love. We'll also provide an accurate price quote for your favorite products – including professional blinds installation – during your consultation.
You place your order for customized window treatments – If you decide to purchase, we'll start the production process promptly. We work alongside trusted manufacturers to create your personalized window treatments.
Our team returns to install your blinds to perfection – Once your shades are ready, our friendly and experienced team members will reach out to schedule your professional blinds installation. We do all installation work ourselves. That means you can rest assured that the job will be completed in a tidy, efficient & skillful manner.
This is what you can anticipate when you work with Blinds Bros. to upgrade your window coverings and give your space a facelift!
Arrange Your Free In-Home Consultation with Our Window Treatment Specialists
Is your home or business due for a makeover? New window treatments can totally transform your space, no matter what your budget! Would you like to shop for blinds with a design & installation expert, in the comfort of your own home? If so, request your consultation with Blinds Bros. today by calling 215-789-4600.