Picking out window treatments for your windows can be easy since there are many options, but what kind of window treatments can you use for sliding glass doors? Sliding glass doors are great for letting a lot of natural light in, but if they are making a room too hot with sunlight or if you want some privacy at night, you will probably want to get some window treatments for them. Never fear, Blinds Bros. can install window treatments on any type of window or door! We have a few different options for you, from sliding glass door shutters to vertical blinds.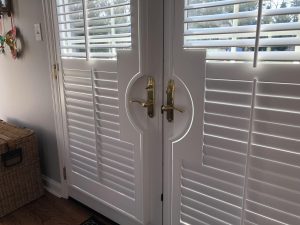 Plantation shutters
Plantation shutters are a great option for sliding glass doors or any doors because they are custom made. So no matter how big your doors are, we can make plantation shutters to fit them. They are high quality, wooden window treatments, and unlike shutters that you typically think of on the outside of a home, plantation shutters are inside.
Instead of cords, plantation shutters usually have rods down the middle to tilt the slats to let light in or block it completely. They can be made to fit any type of window and can be installed in French or sliding glass doors or in curved windows.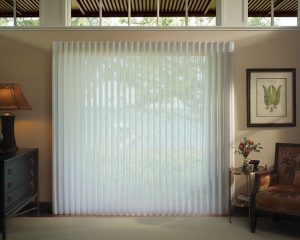 Vertical blinds
Vertical blinds are another great option for sliding glass doors. The vanes of the blinds go from the top of the window or door to the floor, and they are only attached at the top so they are more flexible and free flowing than typical blinds. Vertical blinds can be made with different materials, so we can help you find the perfect kind for your home and budget.
Like plantation shutters, vertical blinds can be easily adjusted depending on how much sunlight and privacy you want. They are also one of the most low maintenance window treatments. Since they are vertical and move around more than horizontal blinds, they collect less dust and dirt, and they can easily be dusted or wiped down when needed.
From sliding glass door shutters to blinds, Blinds Bros. has the perfect window treatments for your doors. Contact us today to schedule your free in home consultation and learn more about which window treatments are right for your sliding glass doors.