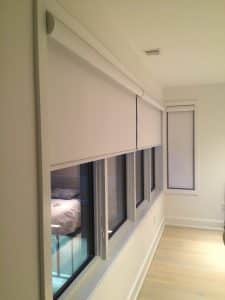 Several factors will play a role in determining the best window treatments for a certain space. While light filtering woven wood blinds might work best for a living area, room darkening roller shades may be a better fit for a bedroom. Aside from material and light control level, another feature to think about when shopping for window treatments is motorization. While electric blinds can be useful in just about any room, automatic bedroom blinds are a particularly popular option – and for good reason! Let's take a look at why motorized blinds and shades are especially well suited to bedrooms.
The Many Benefits of Automatic Bedroom Blinds
Add convenience to your daily routine – Chances are, you'll be adjusting the blinds multiple times a day to create your ideal lighting and privacy level in the bedroom. Motorized blinds allow you to make these everyday adjustments with the touch of a button – without even getting out of bed!
Broaden your design horizons – Want to put your headboard or dresser in front of a window, but worried you won't be able to easily access the blinds this way? Powered shades allow you to arrange your furniture freely, without worrying about how you'll put the blinds up and down. They also come in handy for hard-to-reach windows, such as skylights or windows that are high up on the wall.
Make your home safer for kids and pets – If you have young children or pets at home, it's crucial to consider their safety when choosing window treatments. Automatic blinds are cordless, making them a suitable pick for any bedroom (or shared family space) in the home.
Offering supreme convenience, ease of use and versatility, automatic bedroom blinds are sure to heighten the aesthetics and functionality of your space.
Look to Blinds Bros. for the Very Best Selection of Blinds & Shades
Whether you're on the hunt for motorized blinds or traditional corded window treatments, the specialists at Blinds Brothers are here to help you find a product that checks every box on your wish list! Our professionals will bring a selection of high-quality window coverings right to your home or business, where we can get a feel for your space and what will work best in it. If you're ready to get started on finding your perfect window treatments, call 215-789-4600 to request your free in-home consultation with us!