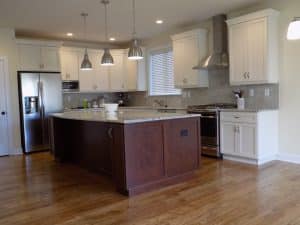 When giving your kitchen a facelift, you can't forget the windows! Stylish and functional window treatments will put the finishing touch on your kitchen, accenting the appliances, cabinets and other design elements. In case you're looking for the best window treatments for kitchen windows, we've compiled a list of some of our favorites.
A Few of the Best Window Treatments for Kitchen Windows
Faux Wood Blinds – A simple yet chic option, faux wood blinds offer superb light and privacy control. They're available in a variety of finishes, so you can match your kitchen cabinets or go for a contrasting color. Plus, they can be made cordless for easy lifting.
Roman Shades – Roman shades come in a massive range of patterns and colors, so they're amazing for adding a pop of color to an otherwise neutral kitchen. If you already have lots of color in your cooking area, it's easy to find a complementary style!
Woven Wood Shades – Woven wood shades will bring a taste of nature into your kitchen. By diffusing natural light, they will keep your kitchen bright and airy – but not too bright. Of course, they can be adjusted throughout the day as the lighting changes.
Shutters – These unique window treatments lend a modern and upscale appearance to the kitchen. Shutters are simple to wipe clean, so messes are no match for them.
This is by no means a complete list of all the best window treatments for kitchens – these are just a few fresh picks to help you brainstorm!
Come to Blinds Bros for an Inspiring Selection of Custom Kitchen Window Treatments
Shopping for window treatments for your kitchen or another room in your home? Blinds Brothers has you covered with an impressive selection of all different sorts of blinds and shades. Known as the premier window treatment experts in Philadelphia and beyond, our crew is here to recommend the best options for your project. When giving suggestions, we'll consider the aesthetics of your space and the features you're looking for in a window treatment. Then, we'll seal the deal with professional installation!
Want to learn more about us or schedule your free in-home consultation? Give us a call at 215-789-4600 or fill out our online contact form. We look forward to introducing you to our wonderful array of window treatments!