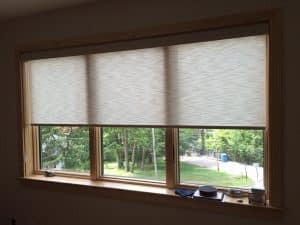 Whether you're shopping for a new home or looking to breathe new life into your current design scheme, it's important to select window treatments that will mesh well with your lifestyle. Also known as roller shades, roll up blinds are an elegant, low-maintenance option for the living room, bedroom or even the kitchen. If you're wondering where to buy roll up blinds, look no further than Blinds Brothers.
Offering personalized service based upon years of industry experience, we are proud to call ourselves the premier window treatment provider in the Philadelphia area. Not to mention our selection of roll up blinds is unmatched, with a wide variety of colors, patterns and features to choose from!
Are Roll Up Blinds My Ideal Window Treatment?
Still in the process of deciding which window treatments will work best for your space and your needs? Here are a few reasons why you might consider roller shades:
You have a large window – Roller shades are one of the best options for large, wide windows. Offering a streamlined and finished look, they can be custom-made to fit any size window.
You desire simplified upkeep – Blinds with individual slats tend to trap dust, meaning they need to be cleaned more often. But since roll up blinds are one large piece of fabric, they don't collect much dust at all. This makes them the obvious choice for anyone looking to minimize maintenance.
You're seeking a user-friendly light control solution – Natural light is great; but sometimes, you might want to block some of it out – for glare reduction, heat control and privacy purposes. Roll up blinds allow you to easily alter the amount of light that comes into your space throughout the day. They can even be motorized for ultimate ease of use.
You want your window treatments to reflect your personality – Another beautiful thing about roller shades: they are available in a virtually endless range of styles. Select simple, solid-colored blinds, or go wild with pattern and color – the choice is yours!
From easy maintenance to superb style to maximum light control, roller shades have it all.
Where to Buy Roll Up Blinds: Blinds Brothers Is the #1 Source
When it comes to where to buy roll up blinds and other customizable window treatments, Blinds Brothers is the top-rated choice among home and business owners in and around Philadelphia. For one-on-one assistance with finding your perfect window treatments, give us a call today at 215-789-4600.