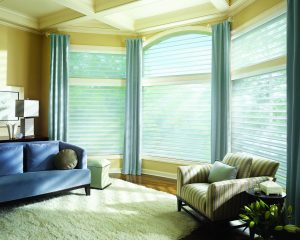 When looking to upgrade their home or office, many people look to the latest technology. It's no wonder why! Home and business automation solutions can benefit us in many ways, from increasing the security of our properties to simplifying our daily lives. Automatic indoor blinds are one of the products you might consider if you're looking to take advantage of what modern technology has to offer. Below, we explain the many perks of having your window treatments motorized.
Advantages of Automatic Indoor Blinds for Home & Office
Supreme Convenience – Do you have lots of windows, a busy schedule, or both? Having the ability to adjust your window treatments with the touch of a button can be a lifesaver. Maybe you'll choose to add motorization to your most-used or hard-to-reach windows only. Or, perhaps you'll fall in love with this handy feature and make all of your window treatments automatic!
Polished Appearance & Ultimate Control – It can be difficult to get corded window treatments in just the right spot. This might not seem like a huge deal. However, it can be quite annoying if you have several windows next to each other and the blinds aren't even. Cords can also prove to be bothersome and unattractive. In both cases, motorized blinds can save the day! You'll no longer have to deal with those unsightly cords. Plus, you'll be able to precisely control the positioning of your window treatments with automatic indoor blinds.
Enhanced Safety – Getting rid of the cords on your roll up blinds or shades will do more for your space than simply improve its aesthetics. This switch also eliminates the risk of children or pets getting entangled in the cords of your window treatments.
This is far from a full list of the many benefits of automatic indoor blinds. To see them in action and learn more about how these highly convenient window treatments work, head over to our website!
Blinds Brothers: Philadelphia's #1 Source for Motorized & Manual Blinds
At Blinds Brothers, we give you the expertise of an industry professional combined with the personalized service you'd expect from a family-owned business. We believe that shopping for new window treatments is best done in your own space. That's why we offer complimentary in-home consultations and estimates.
Ready to schedule an appointment with one of our friendly experts? They will come to your home or business to see your windows and space in person. After discussing your needs and desires, they will suggest colors, styles and features which may interest you.
During this time and always, you can rest assured that we take the safety of our team members and customers seriously. If you would like to schedule an in-home consultation or discuss your project over the phone, give us a call today at 215-789-4600.