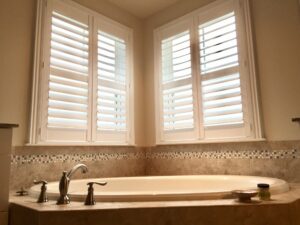 Having one or more windows in your bathroom is a privilege, as it allows you to enjoy natural light that adds a relaxing, spa-like feeling to the atmosphere. But, having this prized design feature also begs the question of what kind of bathroom window treatment will work best in this space. Let's talk about some features you'll ideally want your window covering(s) to have here.
Finding Your Perfect Bathroom Window Treatment
Your bathroom is a place where you definitely want privacy and peace. It also calls for moisture-resistant window coverings that can handle steam from a nearby shower or bath. Here are a few varieties which can accommodate this combination of needs:
Faux wood shutters – Faux wood is the key here, as genuine hardwood can become warped or cracked with exposure to moisture. The slats and panels on shutters can be easily adjusted for when you'd like to see your surroundings and invite natural light in, versus when you want to protect your privacy, lower the lighting or control heat.
Faux wood blinds – Resilient faux wood blinds are another well-pairing bathroom window treatment option. Blinds equipped with cordless lift offer the simplest method of operation for changing your lighting and privacy conditions as needed.
Roller shades – For windows surrounding a soaking tub, roller shades make a sleek and functional pick. Choosing a nature-inspired color or pattern — ideally in a moistureproof fabric variety — can help to create an organic yet refined feeling in the space.
You are by no means limited to this list when selecting blinds for your bathroom, but hopefully this gives you a good starting place in terms of what qualities to seek out!
Window Treatment Installation Made Easy
Eager to rejuvenate outdated window treatments or add coverings to windows that are currently bare? For the bathroom or any other room in your home, our experts can help you pinpoint exactly the right window treatment variety for your unique design preferences and practical desires.
After we've received your order, we'll follow through with professional installation included at no extra cost once the blinds are ready. To get started, give us a call at 215-789-4600 and arrange a free consultation!