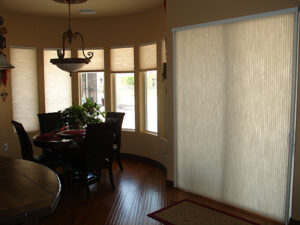 Big windows give you a portal to the outside world so you can see what's happening, all while you enjoy the comfort of your indoor space. Still, whether in your home or business, there are bound to be times when you wish to cover up the windows for one reason or another. In terms of light and privacy control, plus operational logistics, let's explore some of the best blinds for large windows.
Best Blinds for Large Windows
Honeycomb shades – The accordion-like design of these shades means they'll glide smoothly over a window or door, whether installed vertically or horizontally. Panels can be made in virtually any size, with multiple smaller panels being an option for simplified operation and added control.
Woven wood shades – If you'd like to filter sunlight coming through a big window without totally darkening the space, woven wood blinds are a perfect pick. They'll lend a relaxed, bohemian feel to your space that can still be refined. For example, a valance can be put across the top to finish the look or unite a set of wovens.
Roller shades – Roller shades can effortlessly cover a lot of area, and they can even be motorized for totally hassle-free lifting and lowering! Again, you can choose to go with one big panel for the whole window, or opt for a duo or trio of shades.
Maybe you'd like to keep the top of a large window uncovered to let light in, while adding a window treatment at the bottom for privacy and glare control. Or, perhaps you want to cover the entire window with custom-made shutters or shades. In either case, our experts will be thrilled to help you design something that fully fulfills your vision.
Meet with Our Pros
Whether you need the best blinds for large windows in one room or you have several projects to tackle throughout your space, the Philly area's Blinds Bros. are at your service. Professional installation by our experts comes included with every order, so you can rest assured that your window coverings will be well staged to work properly for many years to come! Plus, we'll help you select a color, pattern or finish that meshes well with your decor for lasting design harmony.
Give us a ring at 215-789-4600 to set up your free consultation!