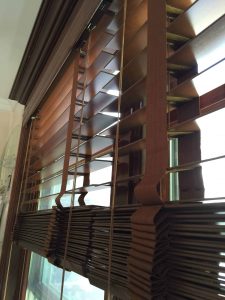 Wood blinds are among the most beautiful, versatile and easy-to-maintain window coverings out there. After all, the only regular cleaning they typically require is a simple dusting of the slats! So, what is the best way to dust wood blinds, quickly and effectively? Allow us to share a few expert tips and tricks that will make cleaning your faux or real hardwood blinds a breeze.
What's The Best Way to Dust Wood Blinds?
Remember that preventing buildup is key – The longer dust and grime are left to collect, the harder they become to remove. To avoid buildup that won't easily wipe away, we suggest incorporating blind dusting into your weekly cleaning routine.
For everyday cleaning, dry dusting works best for both varieties of wood blinds (faux & real wood). A soft microfiber cloth or a feather duster will both get the job done well. To achieve the best results, use the following technique: Adjust the blinds so they are totally lowered and the slats are fully closed. Wipe the slats with your dry dusting tool of choice, going in the same direction as the slats. Then, tilt the slats in the opposite direction and repeat the process.
For a heavier layer of dust, going in with the brush head attachment on your vacuum cleaner will work wonders. Once again, always work in the same direction that the slats are facing. To prevent damage to your blinds, be sure to set the vacuum suction to the lowest setting.
For deep cleaning, which is recommended every few months, you may wish to use a cleaner designed to make wood surfaces shine, such as lemon oil. After application, don't forget to wipe the slats dry with a clean cloth. One last important note: While faux wood blinds may be safely spot cleaned with water and mild soap as needed, it's best to avoid the use of a damp cloth on blinds crafted from real hardwood.
Utilizing these techniques and tools, you can count on your wood blinds to continue functioning & looking as great as they did on installation day, for many years to come!
Blinds Brothers Offers an Impressive Selection of Custom-Fit Wood Blinds
Maybe you already have wood blinds in your home, or perhaps you are now considering this universally appealing window treatment option. Either way, we hope our explanation of the best way to dust wood blinds has been helpful to you!
If you are eager to learn more about wood blinds and find out if they're the ideal choice for a space in your home or business, reach out to Blinds Brothers today at 215-789-4600. Our window treatment mavens would love to schedule a free in-home consultation to help you decide on the best window coverings for your needs, budget and design style.
From custom-fit wood blinds in a range of gorgeous finishes, to roller shades, shutters and much more, we are proud to offer all the latest and greatest window treatments from trusted manufacturers!