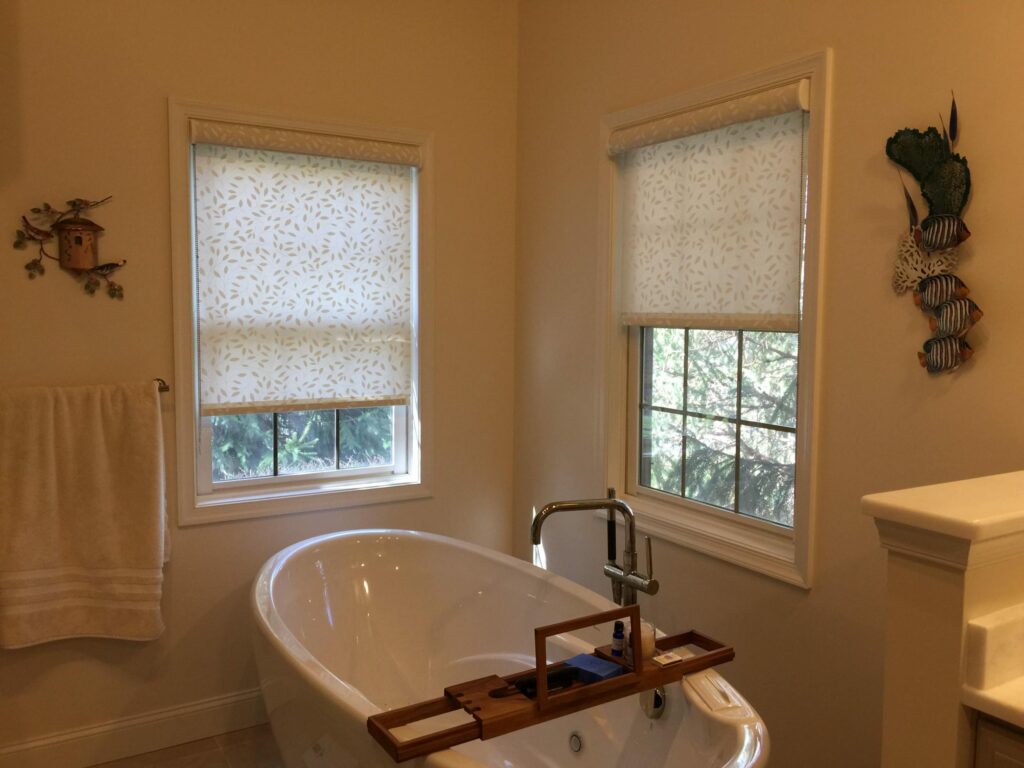 Do you have a bathroom renovation in progress or on the horizon? Or, maybe you're just looking to make a few small changes to refresh your bathroom design. Either way, you may be wondering: What is the best window treatment for bathroom settings? Since bathroom windows come in a wide array of shapes, sizes and configurations, there's no one-size-fits-all answer to this question. Still, some window coverings are better suited to this sort of environment than others. Let's take a look at a few excellent options, along with some pro tips on how to choose the best one for your bathroom.
What's the Best Window Treatment for Bathroom Settings?
If you're looking for window coverings that will perform well over the years in your bathroom or powder room, check out these styles:
Faux Wood Blinds – Genuine hardwood blinds bring an air of refined elegance into any space. But, in a high-moisture environment like the bathroom, they can warp or crack easily. Faux wood blinds are crafted with materials that emulate the look of real wood but don't run the risk of being damaged by steam.
Faux Wood Shutters – Plantation shutters are a timelessly charming pick that can mesh with both modern and more classic bathroom décor. They're also a great choice for unusually shaped bathroom windows, since they can be tailored for just about any window. Once again, it's important to select a faux wood style to ensure longevity around moisture.
Roller Shades – Roller shades come in a broad range of patterns and colors, plus several opacity options so you can personalize them to fit your needs. If privacy is a concern given the location of your bathroom windows, you may wish to add a privacy liner. You'll also want to make sure the fabric you choose will resist moisture, especially if your bathroom is on the smaller side or lacks good ventilation.
Woven Wood Shades – Known to instantly enliven a space with a luxe organic vibe, woven wood shades will turn your bathroom into a spa-like oasis. These shades provide a moderate amount of privacy and light control by default. Still, it's a wise idea to add a liner if your bathroom is highly visible from the exterior of your home.
As you can see, the best window treatment for bathroom atmospheres will depend on personal factors, including how your windows are laid out and what you're looking to achieve in your bathroom design.
Shop for Bathroom Windows Treatments At Home with Blinds Bros.
At Blinds Brothers, we specialize in helping our customers find the best window covering match for their bathrooms – or any other space, for that matter! If you'd like professional assistance with choosing and installing your ideal window treatments, then you've come to the right place. Our friendly experts will meet you in your home for a free consultation, during which we'll show you a range of samples that line up with your practical and aesthetic goals. Call us today at (215) 789-4600 to request your free in-home window treatment shopping appointment!