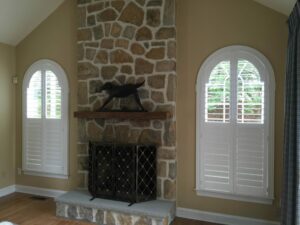 Unusually shaped windows can add character to your Philadelphia area home, but they can also be a pain in the neck when it comes to finding window coverings. Fortunately, the Blinds Brothers team has a wealth of creativity and plenty of experience matching home and business owners with just the right blinds for odd shaped windows. Let's go through a few options.
Blinds for Odd Shaped Windows
Hexagon, oval, round, arched — whatever type of windows you have, our innovative experts are up for the challenge of finding a great window treatment pairing. Our personalizable offerings include:
Shutters – Custom-tailored for each unique window, shutters can be crafted into virtually any shape, with rounded or straight edges. This way, you can cover the whole window and achieve a cohesive, finished look while benefiting from total light and privacy control. (If you'd like to cover the glass panel on a door, knobs and handles can also be accommodated.)
Roller shades – Distinctly sleek and functional, roller shades can be placed at just about any point on a window, with the option to add a complementary valence above them for extra coverage.
Drapes – If you'd prefer to have more universal window coverings that can disguise awkwardly shaped windows when they're drawn, draperies may be a good pick. They can be easily hung above the window, allowing you to take advantage of the privacy, darkness or insulation they'll create as needed. Pick from neutral styles as well as decorative prints to either pull attention away from or accent unique windows!
For just about any window shape, height and width imaginable, no matter how quirky, our professionals are well equipped to recommend window treatments that will pair beautifully. Regardless of your personal goals and reasons for seeking blinds for odd shaped windows, we'll help you achieve them!
Get in Touch
If you're ready to create your perfect window treatments, even if you aren't quite sure what they are yet, our team is just a phone call away. Reach out at 215-789-4600 for a free consultation at your Philly/South Jersey area home or business!