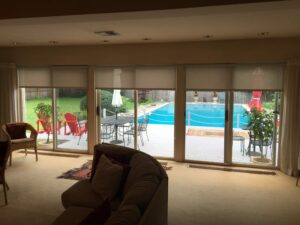 In the peak of summer at the Jersey Shore and across the Greater Philly region, things can get very steamy. So, if you live here, it's important to be equipped with ways to block heat and keep your indoor environment comfortable even as temperatures soar. No one wants to have their AC blasting constantly, so other methods are a necessity. This is where window treatments come to the rescue!
Best Ways to Block Heat from a Room
When thoughtfully chosen, window coverings can help to fulfill a range of practical and aesthetic wishes all at once. If you're aiming to block heat in sunny parts of your main residence, beach house, cabin or even your business, the Blinds Bros. can help! We offer a variety of sunlight- and heat-taming blinds, including:
Roller shades – If you'd like to effectively manage sunlight without spoiling your view of what lies outside your windows, roller shades might just be your perfect match. The higher the openness level, the looser the weave, meaning more visibility. Contrarily, a lower openness level/tighter weave will provide greater heat and UV light control. The sweet spot is a matter of your personal preference.
Cellular shades – Intentionally built to handle light, heat and even noise, cellular shades (aka honeycomb blinds) are among the most energy-efficient window treatments. Opt for the light filtering variety to maintain a balance of natural light and privacy, or go for room darkening for greater heat/light control and privacy.
Shutters – When closed, shutters are perhaps the most insulating window covering available, as they fit snugly against the window. If you don't mind adjusting your view during the heat of the day (you can always open the slats whenever you want to see out!), they're a wonderful choice.
…and more! For personalized advice on which type of window coverings will best accent your decor while achieving your in-home heat regulation goals, don't hesitate to reach out.
Request Your Free In-Home Blinds Consultation
Regardless of what kind of blinds or shades you choose, their performance will only be as good as the installation. For peace of mind that your investment will maximize energy savings and beautify your home, entrust our pros to help you order custom-sized window treatments and install them to perfection for no additional cost. Give us a call at 215-789-4600 to get started!