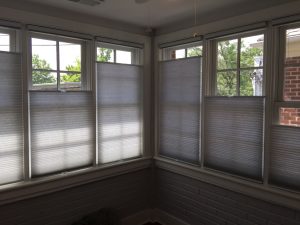 As the name suggests, light filtering shades filter and diffuse the sunlight that comes in through your windows. In turn, this type of window treatment provides protection against damaging UV rays and distracting glare, while still allowing natural light to enter your space. Of course, they are well known for their light controlling capabilities, but many wonder: Do light filtering shades block heat as well? Read on for a detailed explanation of how these functional shades work to keep your home comfortable all year long, courtesy of insulating and heat-blocking features.
Do Light Filtering Shades Block Heat?
Along with giving you more control over the amount & quality of light in your space, light filtering shades also serve to reduce both solar heat gain and chilly drafts. Cellular honeycomb shades in particular are remarkable insulators and offer benefits throughout every season. Here's a bit more about how cellular shades can help you maintain a comfortable indoor environment while saving energy:
When it's warm outside, these light filtering shades will reflect the sun's powerful beams back into the atmosphere. So, choosing this sort of window covering will significantly cut down on solar heat gain inside your home or business during spring & summer.
When it's cold outside, the intentionally designed honeycomb cells found on cellular shades will trap warm air so it stays inside your home. Simultaneously, these insulating shades will prevent cold air from coming in through your windows. By simply raising your shades on sunny fall & winter days, you can also harness the natural warming power of the sun.
Hopefully, this article has fully answered your question, "do light filtering shades block heat?" For more information on the best shades & blinds for insulation and light control, check out our recent post dedicated to this topic!
Shop for High-Quality Window Treatments at Home with Blinds Bros.
Excited to explore window coverings that are a fantastic fit for your space? Working with the specialists from Blinds Brothers, you can do so right in the comfort of your own home or business! Once our experts have gotten a sense of your needs, wants, style and budget, we'll show you window treatment options we believe are a good match and help you customize them to perfection.
Ready to schedule a free consultation in your home or business with the pros from Blinds Bros.? Give us a call today at 215-789-4600!