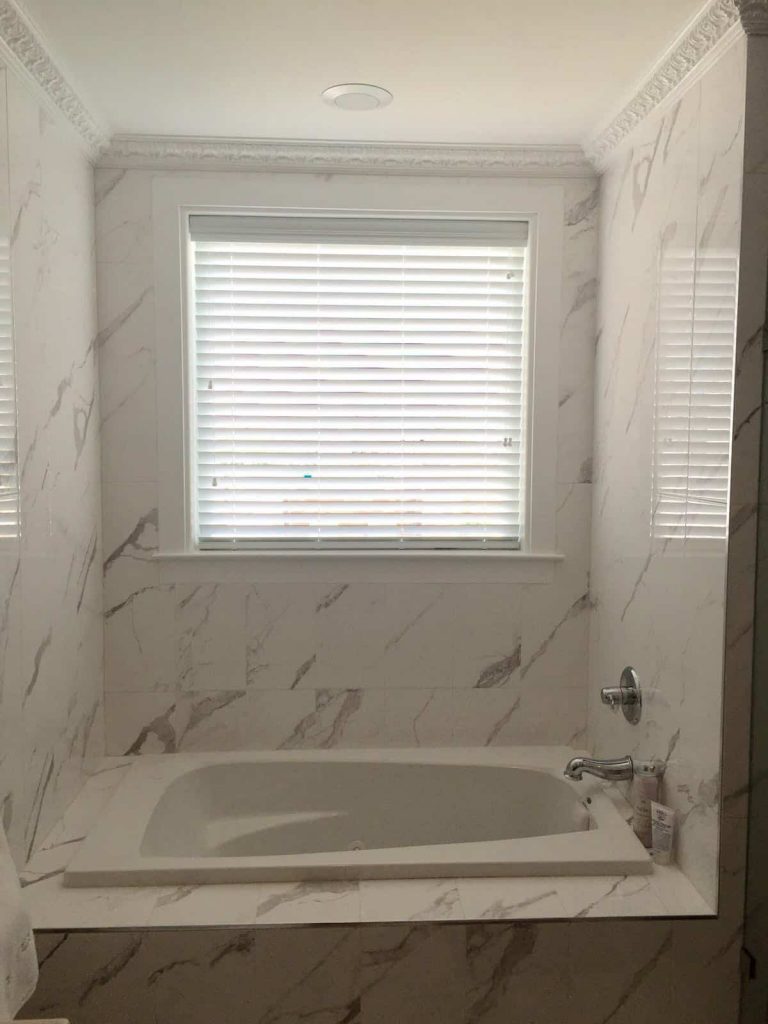 Throughout the home, different rooms have varying functions, layouts and aesthetics. That means they call for different types of window treatments. From the way a space is used to its location in the home, numerous factors influence the best options for a particular room. Today, our window treatment pros will focus on window coverings that generally work well in a bathroom. More specifically, we'll provide a list of easy to clean bathroom window treatments that are both functional and stylish!
Easy To Clean Bathroom Window Treatments | What Blinds Bros. Recommends
Faux Wood Blinds & Shutters – Needless to say, the bathroom is a high-moisture environment. As such, it's key to choose window coverings that can withstand humidity without warping. Both faux wood blinds and shutters are crafted with durable, moisture-resistant materials, making them a safe & smart choice for bathrooms. Both provide excellent light/privacy control and simple maintainability. However, shutters tend to be a bit sturdier and more insulating than wood blinds. The right style for your space comes down to your taste and the features that are most important to you.
Woven Wood Shades – Crafted from natural materials like bamboo, woven wood shades will give any bathroom a spa-like feel. Even when lowered, they will allow some light to trickle in, creating a soft glow. If the location of your bathroom calls for privacy-preserving window coverings, a liner can be added to the shades to ensure no one can see in – day or night.
Aluminum Blinds – Our list of easy to clean bathroom window treatments wouldn't be complete without aluminum blinds! These sleek, built-to-last blinds won't be damaged by steam, and they can be cleaned using a range of methods – including a simple wipe down with mild soap and warm water. 
When choosing new window treatments for your home, there's a lot to consider. While one style may be a wonderful match for your bathroom, another type might work better in the master bedroom, and so on. No matter what space you're shopping for, Blinds Brothers will help you decide on window treatments that offer the best of both worlds – seamless functionality plus a stunning look that complements your design style!
Shop for Custom Window Treatments with Our Experts, Without Leaving Home 
Owing to years of experience in the industry, the Blinds Brothers team knows everything there is to know about selecting the right blinds for a space and installing them to perfection. What's more, we truly value our customers' time and satisfaction, so we go above and beyond to deliver 5-star service. To get started with our friendly professionals, call us at 215-789-4600 and request your free in-home consultation!