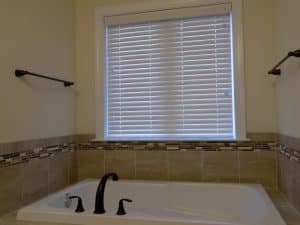 On a quest to find the absolute best window treatments for your space? Naturally, you'll want to consider different options and compare their respective benefits. Blinds Brothers is here to tell you about hardwood blinds and the distinct advantages which make them a top choice among Philadelphia area homeowners.
4 Advantages of High-Quality Hardwood Blinds
Easy Maintenance – Caring for hardwood blinds is simple and straightforward. For everyday cleaning, a microfiber cloth or feather duster will do the trick to remove dust. For a deeper clean, wipe the slats with a damp rag to banish built-up grime. A soft vacuum attachment can also be used to lift away any dirt or dust that accumulates over time.
Moisture Resistance – Both real and faux wood blinds are equipped to withstand humidity – especially when a sealer is applied for added protection and longevity. This quality makes them one of the best window treatments for kitchens, bathrooms, basements and beyond.
Added Privacy – Many homeowners enjoy the privacy and light control options afforded by wood blinds. Simply close the slats to create on atmosphere of total privacy, or open them to let in natural light.
Styling Adaptability – Clean and timeless, hardwood blinds can complement virtually any design scheme. They come in a range of colors – from crisp white to rustic mahogany. This wide selection ensures you can find something fitting, whether you're shopping for a shore house, a cozy cottage, a modern home or a sleek office space.
Explore Different Styles of Hardwood Blinds with the Pros
As you can see, there are numerous benefits to be enjoyed when you outfit your home or business with real or faux wood blinds. If you're eager to see these window treatments in action and learn how they can enhance your particular space, reach out to Blinds Brothers to schedule a free consultation today.
Maybe you have your heart set on wood blinds, or perhaps you're interested in browsing samples of all different sorts of window treatments. In any case, we'll help you choose an option that matches your existing aesthetics and delivers your must-have features. To get started with a member of our team, reach out to us online or by phone at 215-789-4600.