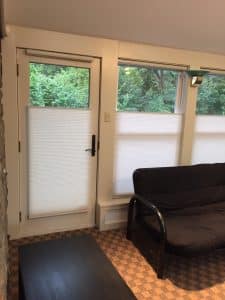 For homeowners and apartment renters alike, noise-blocking window treatments can be highly valuable. Perhaps you live on a busy street, or maybe you're looking to create a sound barrier between you and the neighbors. Regardless of why you're seeking to make your home a bit more soundproof, cellular shades (aka honeycomb blinds) are a wonderful choice. Among the many great features of honeycomb blinds: noise reduction, customizability and aesthetic appeal that will upgrade any room.
Honeycomb Blinds for Noise Reduction: How Do They Work?
No window treatment has the ability to make a home completely soundproof. However, honeycomb blinds have been proven to significantly reduce noise – by over 50%, in fact! Here are a few fast facts on how these shades function to control both sound and light:
Why are they called honeycomb shades? These intentionally designed blinds have honeycomb-shaped cells, hence the nickname. The hexagonal cells trap air and noise while letting light filter through. They can also block it out, if you opt for blackout cellular shades.
How do I get maximum soundproofing power? Honeycomb shades with double cells offer the highest level of insulation and protection against noise transfer.
Can honeycomb shades be customized? Absolutely! In addition to choosing single or double cells for your shades, you can make them light filtering, room darkening or blackout. You can also select top-down/bottom-up cellular shades. These offer even more light and noise control than traditional bottom-up lift blinds.
Highly effective for both sun filtering and noise reduction, honeycomb blinds are one of our best-selling window treatment options – for these reasons and many more!
Trust Blinds Brothers to Help You Select Your Ideal Window Treatments
There's so much more to your window treatments than just how they look. Blinds Brothers is here to help you find the perfect option for your space, in terms of both appearance and function. Tell us what you're looking for in a window treatment! We'll listen carefully and utilize our expertise to suggest products which may be a good fit.
Whether you select honeycomb blinds for noise reduction, woven wood shades or vertical blinds, we'll provide seamless installation and top-notch customer service from start to finish. Ready to learn more about our selection of customizable window treatments? Give us a call today at 215-789-4600!