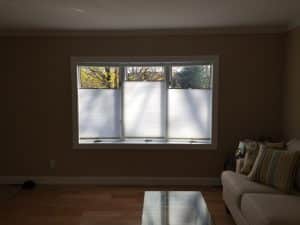 Letting natural light into your home can boost your mood and warm your home – both literally and figuratively! However, there are times when you will want to control the amount of light that comes in through your windows. Sun filter blinds are the perfect solution, allowing you to easily shut out some sunlight and increase a room's privacy, without totally darkening the room.
Finding the Best Sun Filter Blinds for Your Home
When it comes to sun filter blinds, you have many options to choose from. Here are a few styles which do a great job of filtering sunlight while also providing other great perks:
Solar Shades – Offering the best of both worlds, solar shades are designed to let a generous amount of daylight into your home while preserving your privacy. These fabric window treatments come in a range of opacity levels to deliver whatever degree of light filtration you desire. Just bear in mind: these shades won't offer quite as much privacy at nighttime when you have indoor lights switched on.
Faux Wood Blinds – Faux wood blinds are easy to maintain and lend a modern look to any room. Apart from these features, these window treatments put you in charge of your lighting and privacy. Simply use the tilt control wand on the blinds to open or close the slats to your liking.
Roman Shades – Available in several different styles, roman shades are known for their elegant folds or pleats. They also deserve recognition for being effective sun filter blinds, as they are easily adjustable to allow just the right amount of light in. Like solar shades, they are available with many levels of opacity – from very sheer to opaque and everywhere in between.
If you're on a mission to block out UV rays while still enjoying your ideal level of natural light and privacy, then sun filter blinds are just what you're looking for!
Need Help Choosing the Right Sun Filter Blinds? Call Blinds Brothers!
For any size window in any room, Blinds Brothers can help you find the perfect solution to meet your needs and preferences. We specialize in customizing and installing window treatments in a wide variety of styles – including many light filtering options.
If you're in the market for new blinds, we'd love to show you samples and help you find what best suits your home and the level of light filtering you wish to have. Give us a call at 610-285-1022 to request a free, no-obligation window treatment consultation with one of our bros!