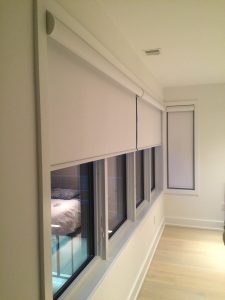 The ideal solution for hard-to-reach windows and busy schedules, motorized blinds offer a long list of benefits. When considering this modern upgrade, many homeowners wonder: "How do remote control blinds work, exactly?" The window treatment specialists from Blinds Bros. are here to explain in plain terms how motorized blinds and shades function to enhance any home.
How Do Remote Control Blinds & Shades Work? Blinds Bros. Explains
Typically, a motorized shading system will consist of the following components: a power supply, a motor, a remote control and the window treatment(s). Let's take a closer look at how these parts function in harmony:
Power Supply – As you'd expect, the power supply provides the electricity needed for the blinds to operate. There are several different options for powering your automated blinds, including hardwiring, batteries and even solar power.
Motor – The motor automates the lifting and lowering of your blinds or shades. This way, there's no need for those unsightly, potentially hazardous cords!
Remote Control –  A sleek handheld remote will empower you to control one window treatment at a time – or to adjust all window coverings in the system in synchronicity. As you go about your day, you can change the position of your blinds or shades with the touch of a button. Do you want the blinds to automatically adjust to specified positions at certain times of day or night? Simply use the handy preset feature.
Window Treatment(s) – From cellular shades to wooden blinds to roller shades, many different sorts of window treatments can be motorized. The best type for your home or business will depend on your desired look and light control/privacy level, among other factors.
Hopefully, this summary has been valuable in helping you understand "how do remote control blinds work?"
Discover Beautiful, Functional Custom Window Treatments with Blinds Bros.
To ensure seamless functionality and optimal performance, it's important to call on a professional for electric blinds installation. From window treatment sizing & placement to system configuration, there are numerous details which require abundant skill and experience to perfect. (And the same goes for manually operated blinds!)
Ready to bring your home or business into the modern era of style & convenience? Blinds Brothers is here to help you select & install sleek, high-performing blinds or shades. To schedule a free in-home consultation to explore window treatments that are tailor-made for your style & preferences, give us a call today at 215-789-4600!