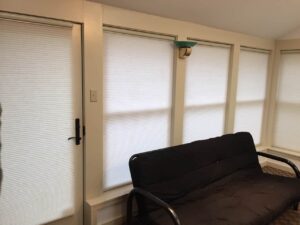 When choosing new blinds for your home or business, there's a lot to think about. Operation style is something you might not consider right away, but it's important to make sure you give it some thought. Learning about options for how to lower blinds of different sorts can help you pinpoint the style that is most compatible with your preferences and space.
How to Lower Blinds: Your Full Guide
Here's some insight into how to lower blinds of some of the most popular varieties:
Wood blinds – If you choose traditional corded wood or faux wood blinds, you'll simply use the cords to lower and lift them. Typically, pulling the cord to the right will lower them. For maximum heat, light and privacy control, turn the slats upwards. (Same goes for metal or vinyl blinds.) If you go cordless, just hold the bottom part of the blind panel and pull firmly downward to bring them down over the window.
Cellular blinds – Generally cordless by default, cellular shades are one of the most user-friendly window treatments to open and close. They have interior strings which hold them in place without being visible or in the way. So, these blinds will stay put no matter where you adjust them on the window, which is done via the bottom plastic piece (there may or may not be a button to press).
Roller blinds – Again, these shades are prime for easy adjustment. Simply grab ahold of the bottom panel in the center, and pull them down gently to any spot on the window you desire.
If you're aiming to minimize effort and maximize safety and convenience, look no further than motorization! This handy feature will save you time and keep you from reaching, all while making your home a more kid- and pet-friendly place. 
Find Easy-to-Operate Blinds with Our Experts
If you're eager to equip your home with blinds or shades that go up and down with a quick hand motion or press of a button, you've come to the right place. Blinds Brothers is proud to be Greater Philly's window treatment specialists, offering a full selection of blinds, shades and shutters for the modern home. With free estimates, design consultation and installation, we provide top value for your money. Get in touch at 215-789-4600 to set up a meeting!