The window treatments you choose for your home or business can make a huge impact on the look and feel of the space. From the material to the color, there are endless ways to customize your blinds so that they make your desired statement. If you're looking for attractive, durable window treatments that will allow you to easily control how much light enters your space, pull up and down blinds may very well be your ideal option. 
Within this category, there are several different materials, light control options and lift control methods available. You might decide on sun-filtering faux-wood blinds with a standard cord control. Or perhaps you'll go for cordless aluminum blinds. No matter what you're searching for, Blinds Brothers is the go-to source for personalized blinds that perfectly suit your space and preferences.
Custom Pull Up and Down Blinds: Ideas from Blinds Brothers
Interested in seeing for yourself how pull up and down blinds can enhance your structure? Check out these high-quality selections:
Faux-Wood Blinds – This material offers all the beauty of real wood, plus the bonus of greater durability and ease of maintenance. Combine dark faux wood with wide fabric panels for a uniquely modern look. Or, stick with the classic skinny string design to let sunlight filter in. Either way, the cords on either side will give you the power to raise and lower your blinds with ease, plus angle the slats however you like.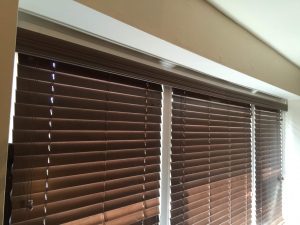 Aluminum Blinds – A simple yet elegant choice, white aluminum blinds bring brightness and warmth to any space. If cords are a safety concern for your household or business, these pull up and down blinds can be made cordless. For this variety, you simply lift the blinds from the bottom to your desired height, and they will stay in place!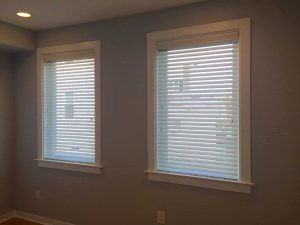 These are a couple of the most popular materials for pull up and down blinds. Just keep in mind, your selection is virtually limitless thanks to the many different color and style options!
Why Pick Blinds Brothers for Your Window Treatments?
Do you already have a vision for your new blinds? Or, would you like some help narrowing down your choices? The Blinds Brothers team is here to assist. Drawing on years of industry experience, we can suggest the best blinds or window treatments for your space based on your design scheme, your wishlist and your budget.
Regardless of which style you select – real wood, faux wood or aluminum – you can rest assured that your blinds will be engineered to serve their purpose for many years to come. If you're eager to begin the process of finding your perfect custom blinds, give us a call today at 215-789-4600!