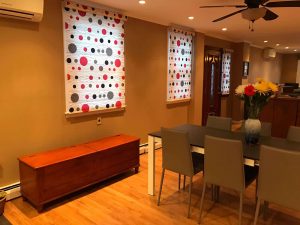 What's the difference between blinds and shades? These terms are often used interchangeably. However, they technically describe two separate window treatment categories. Today, Blinds Brothers is here to clear up what sets blinds apart from shades, once and for all! We'll also offer some insight into why you might prefer shades instead of blinds – or vice versa – for your home or business.
Should You Choose Shades Instead of Blinds? What to Consider
Blinds and shades provide many of the same benefits, including privacy and light control. However, they fulfill these valuable functions in varying ways – largely owing to differences in construction. While blinds feature horizontal slats made of hard materials such as wood or aluminum, shades consist of one or more pieces of fabric. Naturally, this distinction affects how blinds vs. shades look & operate, and in turn, where they work best.
Let's compare these two popular window treatment options in a few important categories:
Resilience to Wear & Tear – Since blinds are made of harder, more durable materials, they may hold up better over time. This is especially true if you have kids or pets at home. Still, shades instead of blinds can be a better choice from a safety standpoint. This is because shades are more widely available in cordless & motorized styles.
Light & Privacy Control – To create your desired lighting & privacy level with blinds, you can raise and lower them from the bottom, as well as tilt the slats. With top down bottom up shades, you get even more control, as these window treatments can be adjusted from both directions. Also worth noting: From Roman to cellular, most shade varieties are available in a range of opacities – including light filtering & room darkening.
Customization Options – While blinds come in various colors & finishes, nothing compares to the design options you get with shades. Maybe you'll choose something fun and contemporary, like polka dotted roller shades. Or, perhaps you'll opt for a classic & elegant floral Roman shade. With virtually endless fabric colors & patterns, plus numerous shade styles to select from, you can let your imagination run wild!
Suitability for Unique Window Shapes – For unconventionally shaped windows such as arch windows, shades tend to offer a more seamless aesthetic & functionality. Adding motorization means you'll be able to adjust those hard-to-reach shades with the touch of a button!
Blinds Bros. Takes the Stress Out of Shopping for Window Treatments
As you can see, there are many things to factor in when choosing between shades and blinds. Add shutters into the mix, and it can feel like a ton of pressure to select a window treatment style. If you're looking for a simplified shopping experience complete with expert guidance and installation, look no further than Blinds Brothers!
Our long-time window treatment specialists will meet with you in the comfort of your home to discuss your needs, preferences & budget. Then, we'll curate a selection of samples we think you'll love and help you choose the very best option.
If you're ready to find your ideal window treatments and have them professionally installed, call us at 215-789-4600 to request your free in-home consultation!