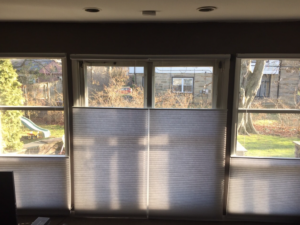 In recent years, cellular shades have become an increasingly popular option for home and business owners seeking window treatments that are sleek, modern looking and easy to adjust throughout the day. But, what are cellular blinds exactly, and what about their construction makes them such a versatile and widely appealing option? Our Philly area window treatment experts are here to fill you in.
What Are Cellular Blinds?
If you've seen cellular shades in action, then you've probably noticed their accordion-style design that contracts when they're raised and re-expands when they're lowered.
You might also hear them called "honeycomb blinds," as the hexagonal shape of the cells is reminiscent of the namesake structures built by bees. This is visible on either end of the blinds, but it's far more than just a decorative touch — the shape functions to catch light, air and noise, tempering these elements to optimize the comfort level in your space.
Perks of Cellular Shades
Now that we've covered the basics of what are cellular blinds, we'd like to highlight a few benefits granted by this intelligent design: 
There are no strings attached — at least not ones that hang down for shade operation. Instead, the strings are on the inside, concealed by fabric, while the shades themselves are controlled with a simple push/pull motion, sometimes with a button at the bottom. Families and business owners seeking the safest and most seamless blinds without strings are sure to be pleased with this feature.
Cellular blinds can be automated, unlocking ultimate ease of operation and precision. With the touch of a remote, the shades can be lowered or lifted to any point on the window you desire. This maximizes their power to control light and privacy according to your in-the-moment preferences.
They're a universally great choice for windows of varying sizes. Whether you're seeking blinds for windows that are long and narrow; short and wide; square, rectangular or otherwise, perfect-fit cellular shades can be made.
Whether you like the traditional style that lifts only from the bottom or you desire to further enhance your level of control with top-down bottom-up shades, a professional window treatment company like Blinds Bros. can help you make it happen.
Request Quick, Friendly Help with Your Blinds
Here at Blinds Brothers, we love cellular shades and highly recommend them across applications ranging from bedrooms to living spaces to office buildings. We take pride in offering a team that specializes in properly measuring and installing honeycomb shades — along with many other types of window treatments — for lasting success.
To begin the conversation about how cellular shades might benefit your space and get started on finding the right color, size and operation style, call us at 215-789-4600 today!