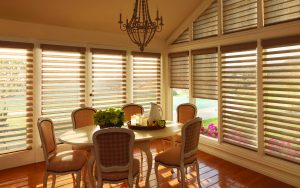 In the world of window treatments – just like anywhere else – trends come and go. Still, many design styles & features endure for various reasons – whether it be for aesthetics, practicality or both reasons! Wondering what kind of window coverings are in style right now? Blinds Brothers is here to give you a rundown of trending window treatment varieties that are likely to stay popular for years to come!
What Kind of Window Coverings Are In Style?
Cordless Styles – Going cordless makes for a sleeker, safer window treatment. So, it's no surprise that motorized blinds & shades are all the rage right now! This is of course owing to their convenience and suitability for homes with kids & pets. Not to mention, automatic window coverings can be customized for hard-to-reach windows of virtually any shape and size!
Adjustable Sheer Shades – Available in horizontal & vertical designs to fit both windows & sliding glass doors, cellular shades provide insulation, light/privacy control and a host of other benefits. Thanks to new and improved designs, you can even get all of this with a sheer shade! Light filtering shades are a top pick for both urban & suburban living spaces right now, thanks to their elegant look, their light diffusing powers and the boundless options they lend.
Simpler Designs – Patterned window treatments are great for spicing up a space and displaying your unique personality. However, they can be limiting, should you ever decide to change up your design. With this in mind, many are opting for toned down patterns & more neutral, understated colors nowadays. And fear not –  with options like textured & shimmering metallic fabrics, there are plenty of ways to add visual interest to a simpler design!
This is far from an exhaustive list of all the current trends, but hopefully you've enjoyed these highlights of what kind of window coverings are in style now!
Discover Window Coverings That Work for Your Design Style & Preferences
Want to see samples of stylish, functional selections that suit your needs and space? Arrange your free in-home consultation with our window treatment specialists today! Simply call Blinds Brothers at 215-789-4600, and we'll schedule a convenient time to come out to your home or business and show you a range of expertly crafted, customizable blinds & shades.