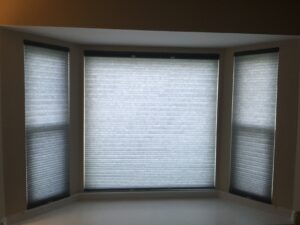 In your home or business, strategically chosen window treatments can serve as one of your best lines of defense against heat, light, glare, glances from outside and even noise. So, what are the best window covers to keep heat out? Let's peruse some of the top most effective options that provide heat control while satisfying other goals.
Window Covers to Keep Heat Out
Regardless of season, letting full sunlight stream in through your windows can get intense. Over time, the sun's ultraviolet rays can damage flooring and furniture, plus make your cooling system work overtime. Fortunately, well-designed window covers to keep heat out can help you save energy, maintain a comfortable interior temperature and protect your furnishings all year round!
At Blinds Brothers, we recommend the following styles for heat-conscious home and business owners:
Shutters – When closed, shutters sit snugly near the window glass, making them a top performer when it comes to preventing heat gain in your space. They'll also block out light and sound when shut, with the option to reinvite the sun back into your space with a quick adjustment of the panels or louvers.
Roller shades – Solar roller shades are crafted from a special material that's designed to block UV rays while still letting some light filter in. They're a wonderful option for heat and light control seekers, with a lower openness level (tighter weave) providing the most protection. For added privacy, consider pairing these shades with drapes.
Cellular shades – Via their one-of-a-kind honeycomb cell design, cellular shades can be relied upon to contain heat, light and noise with great success. In turn, they'll enhance your comfort while reducing utility bills. A light filtering opacity will allow more light to pass through, while room darkening will block out more.
Across window treatment varieties, Blinds Brothers emphasizes quality construction and seamless performance ensured by our complimentary professional installation services.
For Heat-Blocking Blinds, Consult Our Specialists
On a mission to equip your residence or commercial space with blinds, shades or shutters that will help you temper the sun's strength as needed? Throughout the Greater Philadelphia & South Jersey area, we are the go-to window treatment pros! Schedule a free in-your-space consultation with us at 215-789-4600 to see samples and narrow down your favorite designs.