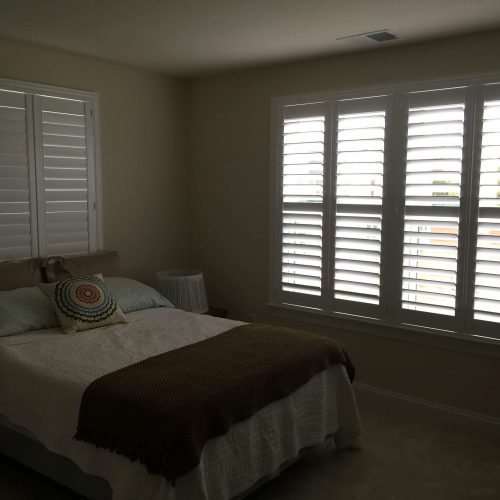 Having a picture window in your home brings several perks, including an abundance of natural light and a great vantage point to admire outdoor scenery. However, there may be times when you wish to cover the window – for privacy, light control or other reasons. In turn, you may seek out the best window treatment for large picture window applications. The specialists at Blinds Brothers are here to help you find your picture-perfect match with a few helpful suggestions!
Window Treatment for Large Picture Window: Options from Blinds Bros.
Shutters – Available in a range of sizes and finishes, plantation shutters are super versatile. A few smaller panels can easily cover a large picture window, allowing you to adjust the various slats for total control over the amount of light/heat that comes in and how much privacy/visibility you have at a given moment.
Roller shades – Precisely positionable with a simple rolling motion, roller shades give you the choice to shield your family from UV rays and outdoor gazes whenever you desire. There are several levels of "openness" to pick from, based on how much light/privacy control you need. Roller shades can be custom-made in wide widths and long lengths for large windows, or you can combine a few smaller panels to achieve the coverage you need.
Draperies – Curtains can also be a terrific window treatment for large picture window, with or without another window covering underneath. It all depends on your particular needs and goals for managing the atmosphere in the space inside the window.
Eager to acquire highly functional, well-made window coverings for a picture window or some other window variety in your home or business? The pros at Blinds Bros. are here to assist you in finding or custom-designing your ideal window treatments!
Request a Free In-Home Consultation & Estimate 
With extensive knowledge and experience in the world of window treatments, the Blinds Brothers team is proud to help residents throughout the Greater Philly & NJ area with all their blinds and shades-related needs. To discuss your project and browse samples with one of our friendly experts, call us at 215-789-4600 and set up a convenient in-home consultation at no cost!