High windows such as skylights and arch windows are sure to brighten up your space and add visual intrigue. Still, there may be times when you wish to cover these windows for privacy and light control. When selecting blinds for high windows, it's important to choose a variety that allows you to easily access & adjust your window treatments as needed. Let's explore a few styles which are well suited for difficult-to-reach windows. Blinds Brothers has an extensive collection of quality blinds and window treatments to choose from.
Blinds for High Windows: Helpful Solutions from Blinds Bros.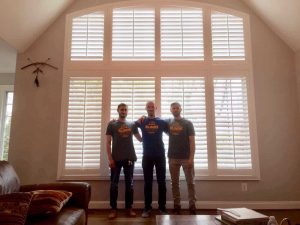 Motorized Shades – Automatic blinds are the ultimate solution for windows that are high off the ground. Motorization is an awesome-to-have feature which lets you adjust your blinds or shades to the desired positioning using a remote control. Many different kinds of window treatments can be automated for optimal convenience & safety. These include cellular shades, roller shades and more!
Plantation Shutters – If you prefer to stick with manually controlled blinds for your high windows, shutters are a great option. Many homeowners find that they barely need to change the positioning of their shutters once the slats are tilted to their liking. But when adjustments are needed, a telescoping pole will help you tilt the louvers to the perfect angle. In many shutter designs, the top and bottom panels can be adjusted separately. This facilitates the creation of an even more personalized atmosphere. Plus, these versatile window treatments can be custom made to fit uniquely shaped arch windows (as pictured above).
If you're seeking the most ideal blinds for high windows, motorized blinds and shutters are two of the very best options out there!
Upgrade Your Space with Modern, Functional Window Treatments
Looking to add stylish & functional coverings to hard-to-reach windows, or a more traditional sort of window? Trust the pros at Blinds Bros. to help you discover your perfect solution. Known for our personalized service, expert installation and top-quality products, our team offers free in-home consultations in Philly, South Jersey & the Main Line area. Call us today at 215-789-4600 to schedule your appointment with our friendly specialists!