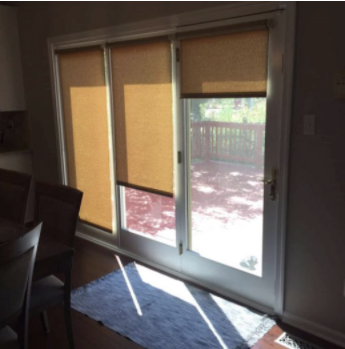 Looking to modernize your blinds or shades? Choosing a cordless style is a wonderful way to make your window coverings both sleeker and safer. At Blinds Brothers, we offer a wide selection of blinds that you pull down and push up, meaning there's no need for visible strings that can get tangled up and pose a risk to kids & pets. Let's take a closer look at how a cordless operation style works.
Blinds That You Pull Down and Push Up: How They Work 
From roller shades to wood blinds to cellular shades, many window treatment varieties are now available with cordless lift. Here are a few helpful things to know about blinds that you pull down and push up:
Cordless window treatments still rely on cords to function – you just can't see them since they're strategically hidden inside the fabric or slats.
To adjust cordless blinds or shades, simply push them up or pull them down by the bottom rail.
Be aware that some styles – such as cellular shades – may have a button that you'll need to press in order to lift and lock them.
If you'd like your window coverings to be positioned somewhere in the middle of the window, simply stop raising or lowering them at your desired spot. The tension system inside the blinds will keep them in place!
Thanks to their effortless functionality and safety-enhancing properties, cordless blinds and shades have become very popular in recent years. Motorization is another trending feature for homeowners looking to optimize the safety, style and convenience of their window treatments.
Explore Advanced Window Treatment Options with Blinds Brothers 
Whether you're interested in going cordless or motorized, or you'd like to stick with classic corded shades/blinds, our professionals are here to assist. We'll show you samples from our robust selection and help you customize window treatments with all the best features for your home or business. Best of all, we'll return to install your well-engineered window coverings with skill and precision once they're ready.
Ready to get started? Schedule your free in-home consultation with a Blinds Bros. expert by calling us at 215-789-4600!