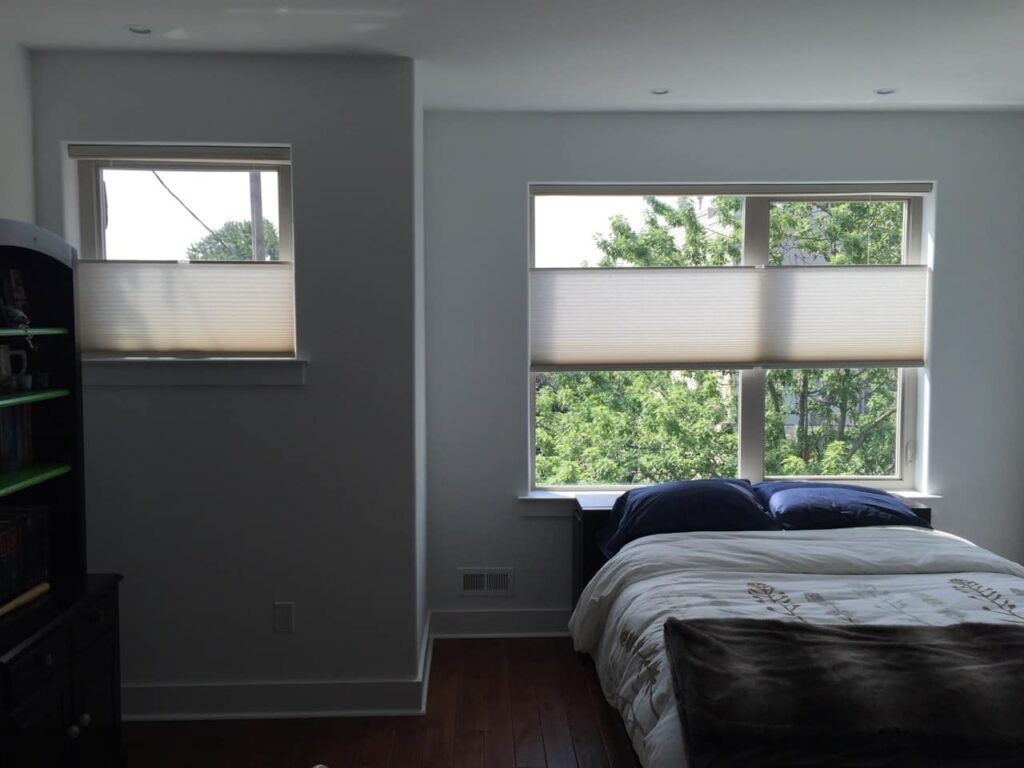 Installing windows high up on a wall can be an asset for both practical reasons (like protecting your privacy) and aesthetic reasons (like creating visual intrigue). However, these windows may present a challenge when it comes to finding complementary window treatments. Whether you're hanging blinds above your kitchen sink, bed, bathtub or couch, motorization for hard to reach window blinds can be tremendously valuable. Let's talk about how the pros from Blinds Bros. can help you make your window treatments stylish and fully accessible. 
Why & How to Add Motorization to Hard to Reach Window Blinds
Along with enhancing their adjustability, motorizing your window treatments will also make them sleeker and safer. By going cordless with automated shades or blinds, you'll no longer need to worry about the possibility of kids or pets being endangered by your window coverings. Not to mention, this technology will bring modern convenience into your home – you'll be able to precisely position your blinds anytime, with the touch of a remote.
Interested in exploring motorization for hard to reach window blinds with the experts from Blinds Brothers? Here's the simple three-step process:
Request a free in-home consultation – You can do so by phone or on our website. Either way, we'll be in touch promptly to arrange a time that fits your schedule for us to come out with a selection of window treatment samples. While we're there, we'll take all the measurements we need to ensure your new window treatments fit perfectly.
Decide on your favorite variety from our robust catalog of options – We'll be happy to offer our advice on the best window covering styles, colors, fabrics and add-on features to fulfill your wants and needs. But ultimately, the choice is all yours!
Enjoy professional, hassle-free installation – Every order includes expert installation by our seasoned professionals. Once your new blinds are finished, we'll reach out to schedule a convenient time to return to your home and install them with finesse.
Arrange Your At-Home Window Blind Shopping Appointment Today
At Blinds Brothers, we specialize in helping our customers find the very best window coverings to fit their design style, functional preferences and any other specifications. We offer a wide array of totally customizable window treatments, including honeycomb (cellular) blinds, plantation shutters, roller shades and much more! To schedule your free in-home consultation, give us a call today at 215-789-4600.