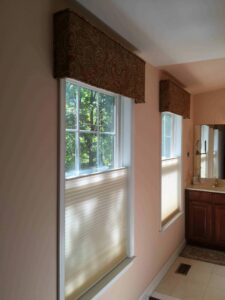 Named for their hexagonal cells that call to mind the wax structures made by bees, honeycomb (aka cellular) shades are an extremely versatile window treatment choice with many benefits. Due to the unique design, you might wonder how to clean honeycomb blinds effectively without damaging them. Let's take a look at some of the best methods.
How to Clean Honeycomb Blinds
Depending on the specific type of attention the window coverings need at a given time, there are numerous tools and strategies you might employ to freshen up honeycomb shades:
Vacuuming with a hose brush attachment, slowly and carefully moving from side to side between pleats to remove any built-up dust and debris
Sending a blast of air from one end through the cells with a hairdryer set to cool — or a can of compressed air — to push out anything that has floated inside
Blotting with a clean cloth very lightly dampened with warm water and mild dish soap to banish stubborn spots (food splatters, marks from messy hands, etc.)
Because they're made of flexible fabric, honeycomb blinds call for a gentle hand when caring for them. Fortunately, they're rather resilient and low maintenance, and the pleats can be "retrained" as needed simply by raising them and leaving them in this position for a few hours.
Find Blinds That Suit Your Needs & Preferences
We hope this overview of how to clean honeycomb blinds has been helpful to you! If you need more advice on caring for various sorts of window treatments, we've got you covered. We also take the guesswork out of choosing and putting up new blinds and shades, with a professional in-home design consultation and installation included with every order!
From honeycomb blinds to roller shades to real & faux wood shutters, we offer a wide range of well-manufactured window coverings for different applications, design aesthetics and budgets. If you're eager to browse everything we have to offer and see samples of your favorites in action, call us at 215-789-4600 and request a consultation with one of our friendly team members who travel across the Greater Philadelphia & New Jersey area!