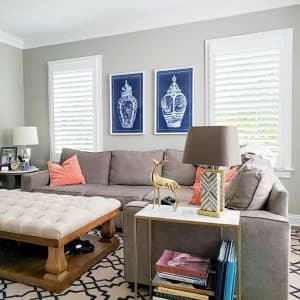 Many homeowners like to "DIY" their home improvement projects whenever possible. If you prefer this method, you may be tempted to put up your own window treatments. Installing blinds yourself should be easy enough, right? Actually, this project is more complex than it may seem – and thus it is best left to the professionals. Let's discuss why.
Thinking of Installing Blinds Yourself? Here's Why You Should Reconsider
From choosing the right style for your needs to properly measuring and finally hanging the blinds, installing new window treatments is a process during which many things can easily go wrong. Here's why it's beneficial to have an expert assist you with all of the above:
Ensure the perfect fit – Window treatment professionals have the tools and expertise needed to precisely measure your windows, guaranteeing a seamless finished product.
Avoid installation errors – Even the most seemingly minor installation mistake can compromise both the look and functionality of your window treatments. Don't risk it!
Safeguard your investment – Window treatments can be costly, so the last thing you want is for them to be damaged during installation. Enlisting a specialist for the job will protect your investment.
Why Hire Blinds Brothers for Your Window Treatment Installation?
Hopefully, we've made it clear why installing blinds yourself isn't the best idea. Now, you may be ready to find a professional service you can trust to install your window treatments to perfection. Here are a few testimonials which display why Blinds Brothers is the Philly area's top choice:
"We just had a roller shade and shades that darken the room installed. From beginning to end, the service was amazing – they answered all questions which I had! When they installed the shades, they were neat, clean, pleasant and efficient! And now my kids are sleeping through the night!! Win-win from every angle! Thank you." -Chavi S.
"We recently had blinds installed by the team at Blinds Brothers. The work was efficient and high quality. They worked with us on our schedule, as we have an 8-month-old at home. When they did arrive, they were courteous and professional. We are thrilled with the blinds and happy we chose Blinds Brothers!" -Bob J.
As you can see, our team is committed to delivering exceptional customer service and high-quality workmanship. If you are eager to upgrade your space with new window treatments, give us a call at 215-789-4600 to schedule your free in-home consultation!