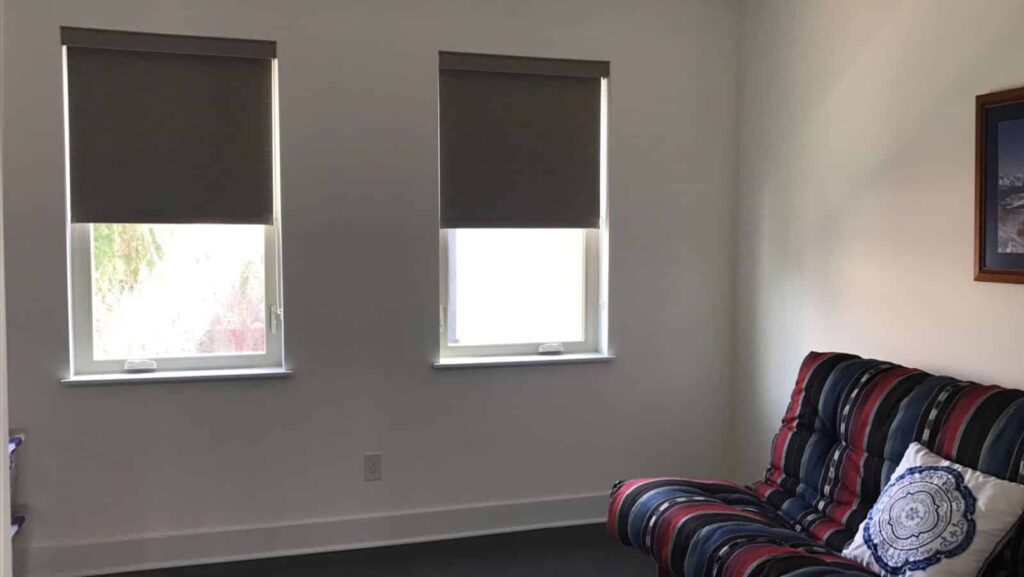 Available in plentiful patterns, textures and colors ranging from neutral and classic to playful and modern, roller shades can be seamlessly incorporated into just about any room design. Adding to their appeal is their simple and sleek functionality, with motorization available for extra convenience. At Blinds Brothers, our line of well-crafted roller shades includes roll up blackout shades as well as light filtering shades & UV-blocking solar shades. Let's discuss which spaces these various options might work best in.
Where & Why Might You Install Roll Up Blackout Shades?
Roll up blackout shades are a popular choice for master and guest bedrooms, along with nurseries. By darkening the room, they create the ideal conditions for a peaceful rest. Typically made with thicker material, these shades can also help insulate your windows and save energy.
Light filtering roller shades are a good fit for places in the home where you wish to diminish glare but still allow some natural light to enter the room. They're a terrific option for living spaces, home offices, kitchens and even bathrooms. By opting to add a liner, you can rest assured that your privacy will be preserved when the shades are rolled down.
Solar roller shades provide maximum protection against thermal heat gain, glare and UV rays. These perks are made possible by the specialty fabric and woven construction used to create them. Put them on windows or doors in notably sunny spaces to keep your family comfortable and protect your furnishings. FYI: They come in several weave "openness" levels to put you in charge of your privacy and light control levels.
Look to Blinds Bros. for Professional Window Treatment Advice & Installation 
If you're interested in roller shades, we hope this overview will help you decide which sort will best meet your needs! In case you desire expert assistance with choosing your new window treatments, the pros at Blinds Bros. have you covered. Call us today at 215-789-4600 to schedule your free in-home consultation and explore our incredible selection of blinds, shades and shutters with our friendly professionals!