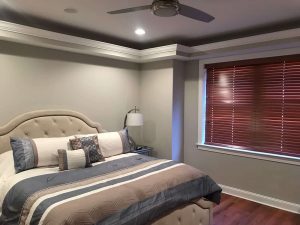 It's no secret that adding fresh new window treatments will give just about any space a facelift. Whether you're shopping for your home or business, you may be wondering: What are the different types of blinds you can get to heighten the style & functionality of your interior? Blinds Brother is here to take you through the various options, with pro tips on determining which blinds will work best in your space.
What Are the Different Types of Blinds You Can Get?
Type "blinds" into a search engine, and you'll likely be overwhelmed by the sheer number of results. With so many options out there, how should you go about narrowing down the selections to land on your ideal variety? A good place to start is by comparing the features of the 3 most popular types of blinds:
Hardwood Blinds – Blinds crafted out of genuine hardwood blend well with virtually any design style – from classic to contemporary. As an important note, real wood blinds can be susceptible to warping or cracking in high-moisture environments. Thus, they're not the top pick for bathrooms. But they are a wonderful choice for bedrooms, living spaces & home offices!
Faux Wood Blinds – Made of PVC/vinyl or composite wood, faux wood blinds do an impressive job of mimicking the charming, elegant look of authentic hardwood blinds. And thanks to the durable materials used to construct them, they're water resistant and very easy to maintain. As an added bonus, faux wood blinds also tend to be more affordable than their real wood counterparts.
Aluminum Blinds – A decidedly sleek style, aluminum blinds will instantly modernize any room. Like faux wood blinds, they're resistant to moisture, meaning they can be used throughout the home without worry. Aluminum is a tough, low-maintenance material, making these blinds outstandingly long wearing.
Hopefully, this overview has been helpful in answering "what are the different types of blinds you can get?" Keep in mind, there are plenty more options where these came from. Beyond these standard styles, there are also roller shades, cellular shades, shutters and several other window treatment varieties out there waiting to be discovered & customized by you! No matter which one you choose, you'll have an extensive selection of colors & styles to choose from when you shop with Blinds Brothers.
Count On Blinds Bros. for Top-Quality Custom Window Treatments
If you're eager to find the perfect blinds or shades to mesh with your design and fulfill your desired purposes, the Blinds Brothers team is here to assist! Our long-time window treatment pros will draw on extensive knowledge & design expertise to help you find your ideal window covering style.
Offering a selection that's far beyond standard, we'll give you a world of options for personalizing your high-quality window treatments. Finally, our experts will take care of the installation – so you don't have to stress about any part of the process! To schedule your free in-home consultation to explore window blinds which are a fantastic match for your space, call Blinds Brothers today at 215-789-4600.