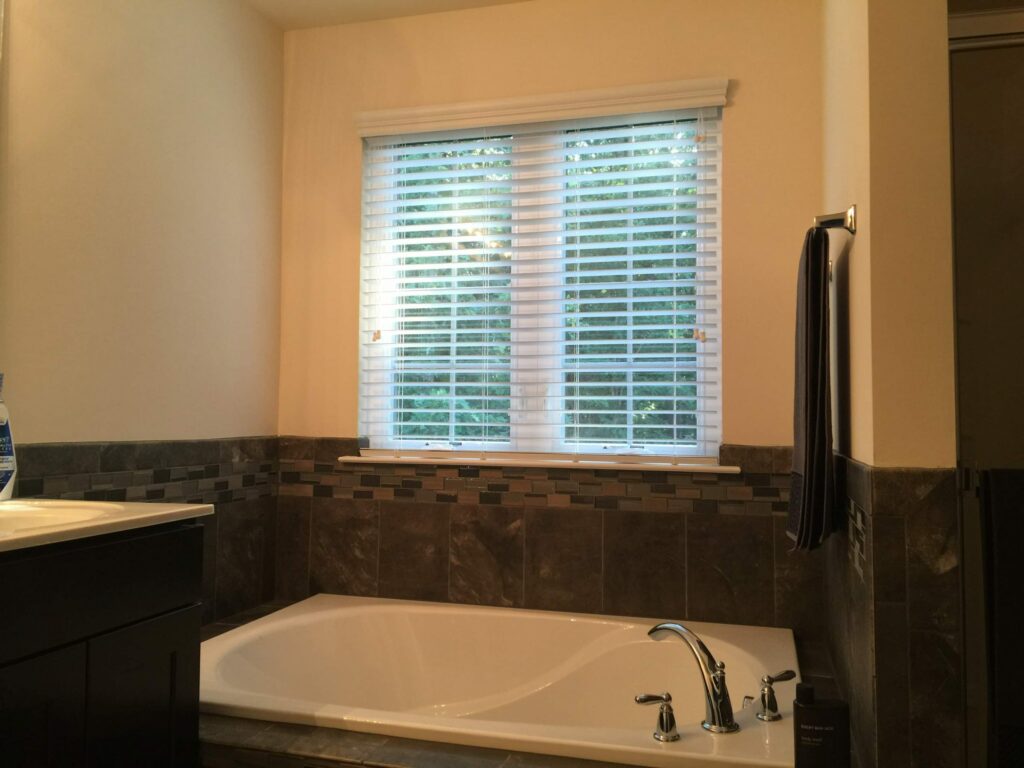 Selecting bathroom window treatments calls for a strategic approach, with careful consideration of factors like privacy and moisture/humidity. If you're ready for a refresh, you may be wondering what blinds are best for bathrooms. To help you make a wise pick, let's explore window coverings that offer high performance in high-moisture environments like the bathroom – plus easy maintenance and a stylish look.
What Blinds Are Best for Bathrooms? Ideas from Blinds Bros.
Aluminum Blinds – Crafted from lightweight metal, aluminum blinds are a sturdy choice you can depend on to resist moisture and function well for years to come. It's hard to beat their durability and longevity – and, they're simple to wipe clean with mild soap and water! Aluminum blinds come in a range of sleek colors to bring a modern touch to your bathroom, with the option to protect your privacy when desired by simply tilting/lowering the slats.
Faux Wood Blinds – Genuine hardwood blinds make a refined statement in any room – but, they're not the best pick for bathrooms, as they may crack/warp from steam exposure over time. Fortunately, you can achieve that same adored, elegant look without worrying about damage, thanks to faux wood blinds! Choose from a broad variety of finishes, with various slat sizes available to help you meet your aesthetic goals & practical needs.
If you're open to the full range of window treatments – not just blinds – you might also consider faux wood shutters or woven wood shades for your bathroom windows. Plantation shutters constructed from moisture-resistant materials will deliver a charming look, along with excellent light/privacy control and insulation. Meanwhile, woven wood shades are a light and airy option that will make your bathroom feel like a luxurious spa. Made from natural fibers that filter sunlight, these shades can be paired with a privacy liner for your peace of mind.
Discover Your Dream Window Coverings with Blinds Brothers
Hopefully, you've enjoyed our summary of what blinds are best for bathrooms. Whether you're eager to optimize your window treatments in a single room or throughout your entire home, our design & installation specialists are here to assist! During your free in-home consultation, we'll show you samples and offer suggestions on the best-suited options for your particular setting. Keep in mind: You can customize any of our window treatments to fit your specific design vision and functional needs. Call us today at 215-789-4600 to schedule an appointment with our pros at your convenience!