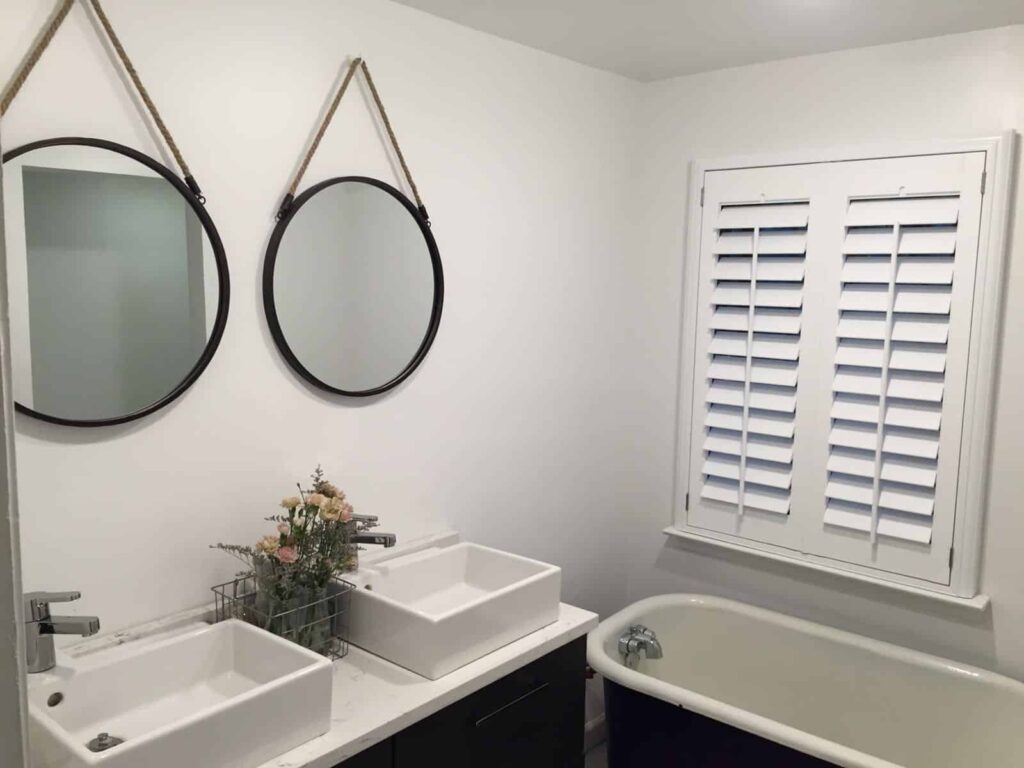 In certain parts of the home, you can't really go wrong when it comes to the type of window coverings you choose. So long as they fulfill your desires in terms of their look and the level of light and privacy control they offer, you're likely to be satisfied. In a bathroom, however, it's also important to think about moisture. The best type of blinds for bathroom settings is any variety that can stand up to steam and splashes while also visually complementing the space. Let's explore a few that fit the bill.
What's the Best Type of Blinds for Bathroom? Our Favorites
For window coverings that are well suited to the bathroom, there's no need to limit your search to blinds alone. Here are some of our top picks in the categories of blinds, shades and shutters:
Faux wood plantation shutters – The key here is to make sure you select shutters made with moisture-resistant faux wood, since genuine hardwood can crack or warp if exposed to steam or water droplets over time. The great news is that high-quality faux wood materials can look virtually identical to real wood!
Faux wood blinds – If you prefer the appearance and/or operation style of blinds to shutters, faux wood blinds may be what you're looking for. Again, they can be finished in a way that mimics natural hardwood while offering protection against the inevitable moisture element in a bathroom.
Vinyl or aluminum blinds – Seeking ultimate durability and a neutral-yet-modern appearance? Vinyl or aluminum blinds could be your perfect pick.
Roller shades – These sleek shades can be made with moisture-proof material. Just be sure to select a tightly woven style to protect your privacy.
That's a wrap for now! If you're ready to learn more about these different options in pursuit of the best type of blinds for bathroom – tailored to your particular specifications – our window treatment experts will be happy to tell you more.
Arrange Your Free In-Home Consultation 
For help outfitting bathrooms and other areas of the home with stylish, high-performing window coverings that fit the unique needs of each space, Blinds Brothers is the trusted choice among Greater Philadelphia and South Jersey area homeowners.
To make things super convenient for you and enhance the effectiveness of our services, we come to you! Call us at 215-789-4600 to set up your appointment to discuss your window treatment wishes and compare samples of various styles with one of our friendly professionals.