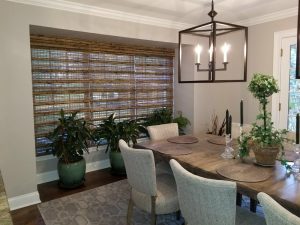 It goes without saying that the appearance of your window treatments is important. Whether you choose blinds, shades or some other type of window coverings, you want them to mesh well with the surrounding furniture and décor. But aside from selecting shades that look amazing, it's also crucial to consider how they will function in your space. For instance, you might seek out window blinds that let light in while also creating privacy. Sound like what you're looking for? Allow us to introduce three stylish light filtering window treatments available from Blinds Brothers.
Window Blinds That Let Light In: 3 Stunning Options
There are many spaces where you might desire window blinds that let light in but prevent people from seeing in your windows. For areas like the dining room and the bathroom – where you want privacy without sacrificing natural light – light filtering shades provide the ideal solution. All of the following options are perfectly suited to this purpose:
Cellular Shades – Cellular shades are a sleek and modern looking window treatment that's specially designed to filter light and trap heat. Available in a huge array of colors, cellular shades can be customized to fit your space and offer your desired level of light control. Choose light filtering for an even mix of privacy and light. Or, if you're not so concerned about privacy and you love natural sunlight, opt for sheer shades!
Woven Wood Shades – Woven wood shades are another wonderful option if you desire privacy but don't want your rooms to be too dark. Light from outside will trickle in through the small gaps in the wood and brighten up the room; all the while, the shades will conceal your interior. Choose from many different finishes, ranging from light to dark.
Roller Shades – As the name suggests, roller shades can be rolled up and down throughout the day as the lighting changes. Select a light filtering variety, and you'll always have the option to make your space private while the blinds continue to diffuse plenty of light throughout your space.
Shop at Home for Blinds That Suit Your Style & Meet Your Needs
Now that you've learned about a few different types of window blinds that let light in, perhaps you're eager to find the best option for your project. Let the trusted window treatment pros at Blinds Brothers help you find just what you're looking for!
Drawing on our years of experience, we'll help guide you to the very best blinds or shades to fulfill your wishes and accent your home or business. To get started with a free in-home consultation, give us a call today at 215-789-4600.